About Alsea Mexico
Alsea, is a leading multi-brand restaurant operator based in Mexico, and operates well-known chains such as Domino's Pizza, Starbucks, Burger King, Vips, PF Changs, The Cheesecake Factory, and others in various countries.

To enhance the customer experience across all their restaurants and channels, Alsea sought a scalable, secure, and customizable technology platform to serve as the foundation for their operations.

Partnering with Ordering.co, Alsea successfully revamped its loyalty program, improved its online ordering experience, and implemented efficient logistics solutions.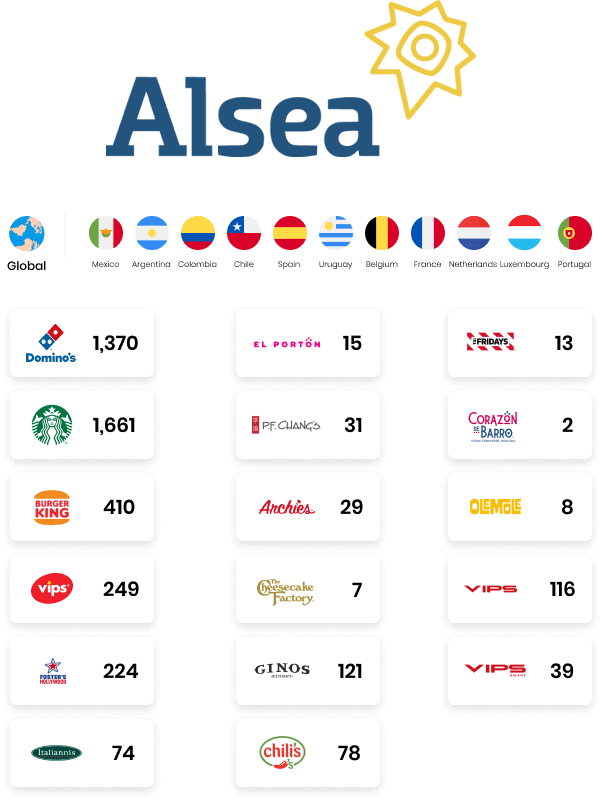 Challenges Encountred
Alsea faced several challenges in its quest to expand and enhance its customer experience:

Seeking a scalable, secure technology pla

tform tailored to individual restaurant chains' needs.



One platform offering multiple channels for digital ordering and brand display.


Integration of multiple points of sale for menu synchronization, branch creation, and product management.



Direct order injection into the point-of-sale system for streamlined operations and efficiency strategies.



Rapid implementation to meet growing needs and stay competitive.



Seamless customer experience across call centers, apps, and websites.


Centralized order management and optimized delivery operations.

Marketing and loyalty programs to boost sales and customer loyalty.
Solutions
Ordering.co provided Alsea with a comprehensive technology platform tailored to address their challenges:

Scalable, secure, and customizable solution for Alsea's restaurant chains.


Seamless integration with multiple points of sale for efficient menu synchronization and management.



Direct order injection into Alsea's point of sale system for streamlined operations.



Rapid implementation of the technology platform to enhance customer experience and maintain competitiveness.



Seamless multichannel ordering experience across call centers, apps, and websites.



Loyalty program revamp, migrating and reaching a large customer base.



Logistics solutions for delivery driver assignment and overflow orders.



Hybrid in-restaurant experiences with QR codes for discounts and promotions.
Results
The partnership between Alsea and Ordering.co resulted in significant improvements and achievements:
Enhanced customer satisfaction with seamless multi-channel experiences and revamped loyalty program.




Increased operational efficiency through streamlined order management and integration with multiple points of sale.


Rapid implementation of a technology platform for competitive agility.



Successful integration of logistics solutions, including auto-assignment of delivery drivers and overflow order management, with external partners.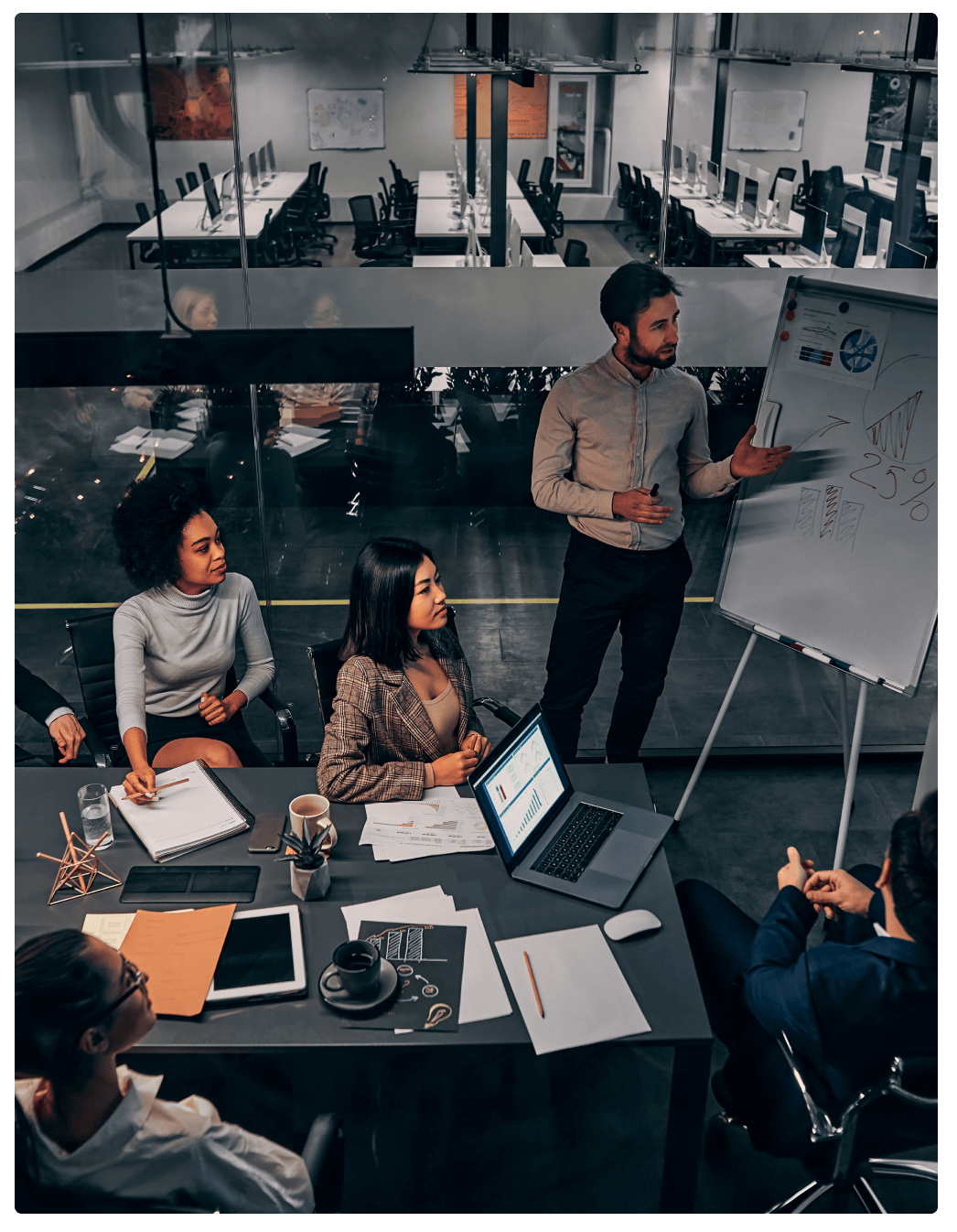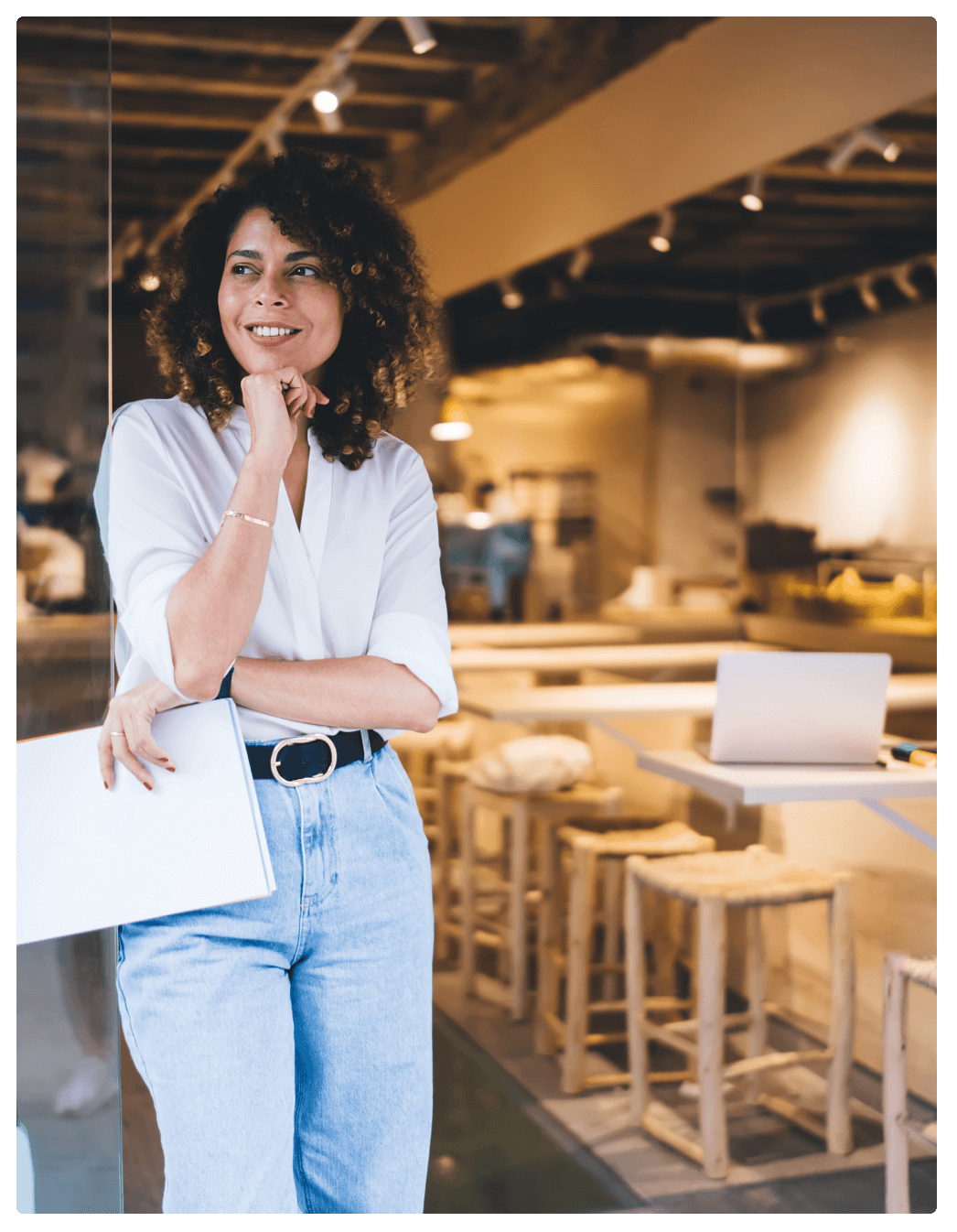 During the pandemic, Ordering.co played a critical role in Alsea's continued success, enabling the company to maintain sales and adapt to the challenges posed by the global crisis.

By leveraging Ordering.co's technology platform, Alsea managed to:
During the pandemic, the rapid transition to online sales and delivery for business continuity.


Adaptation to customer preferences with convenient online ordering and delivery.



Strengthened digital presence and customer engagement for brand loyalty and repeat business.
Technology used by Alsea Mexico
WOW+ Ordering Website
The ordering website used by Wow+ from Alsea with the brand Ordering.co is an intuitive and user-friendly platform that allows customers to place online orders conveniently. It offers a wide range of menu options and products from various Alsea restaurants.

Customers can explore menus, customize their orders, and make secure payments through the website.
The Ordering.co website also provides updated information on special promotions, discounts, and exclusive offers to encourage customer engagement and loyalty. In summary, Ordering.co offers an efficient and engaging online ordering experience for Wow+ customers of Alsea.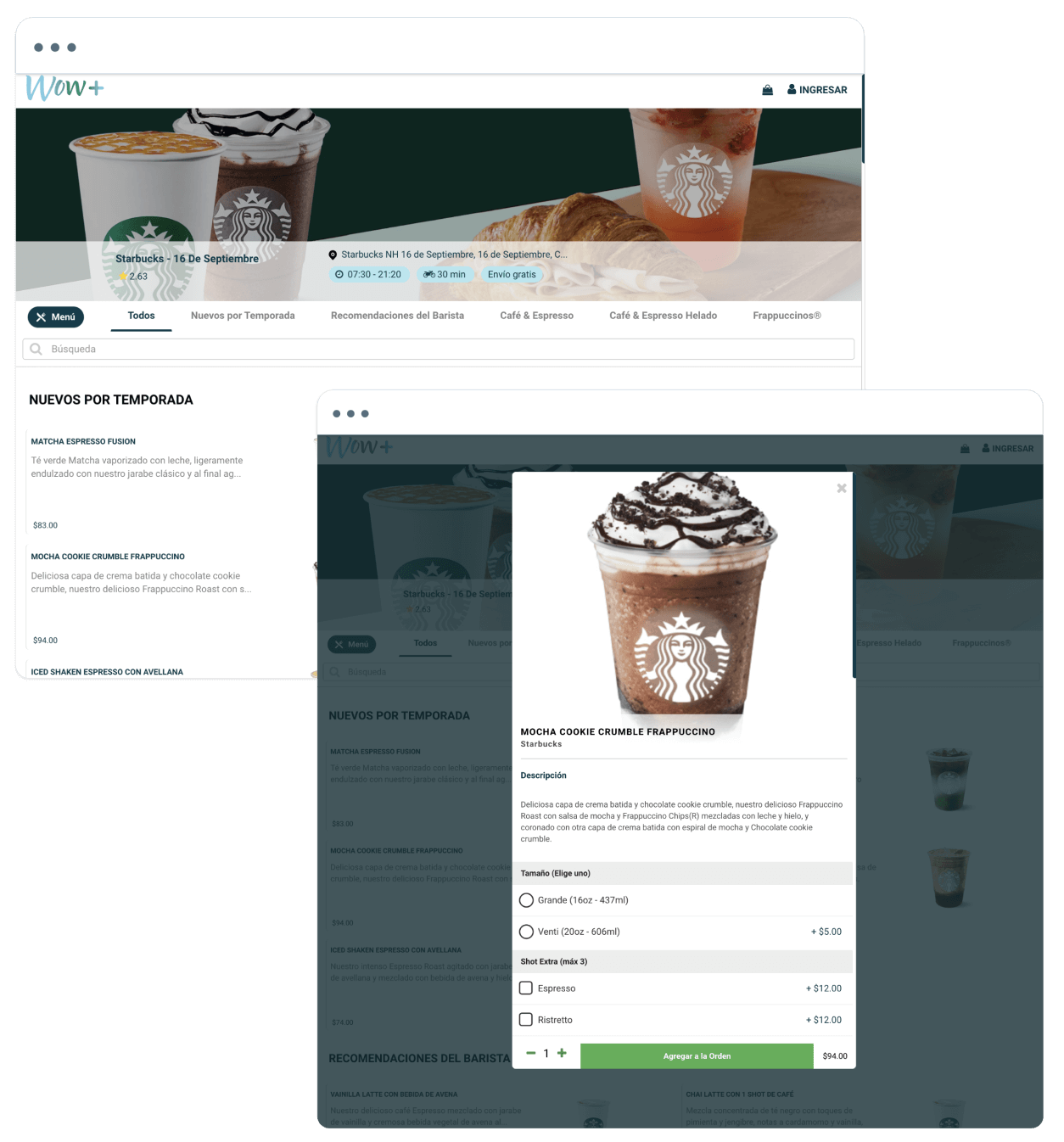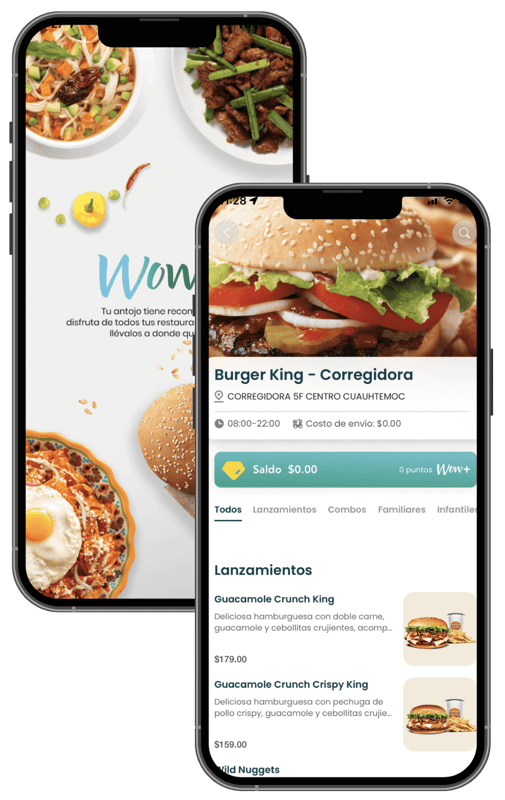 WOW+ Customer App
The Wow+ customer app, Ordering.co, is a convenient mobile application for easy ordering and dining management. With a user-friendly interface, customers can browse menus, customize orders, and securely make payments in-app.
Real-time updates on order status enable tracking of deliveries or pick-up times. The app offers personalized recommendations, loyalty rewards, and exclusive offers for enhanced customer satisfaction.
Overall, the Ordering.co app provides a seamless platform for a delightful dining experience at Alsea restaurants.
Advanced Logistics
The Advanced Logistics system used by Wow+ from Alsea with the brand Ordering.co is a sophisticated solution that optimizes delivery operations for a seamless customer experience.
It incorporates advanced algorithms and real-time data to assign delivery drivers and manage overflow orders efficiently.
The system integrates with external delivery partners like Uber Direct and Rappi to ensure timely and reliable deliveries. Wow+ can streamline operations, reduce delivery times, and improve efficiency by automating these logistics processes.
The Advanced Logistics system plays a crucial role in enhancing the delivery services of Wow+ and maintaining customer satisfaction.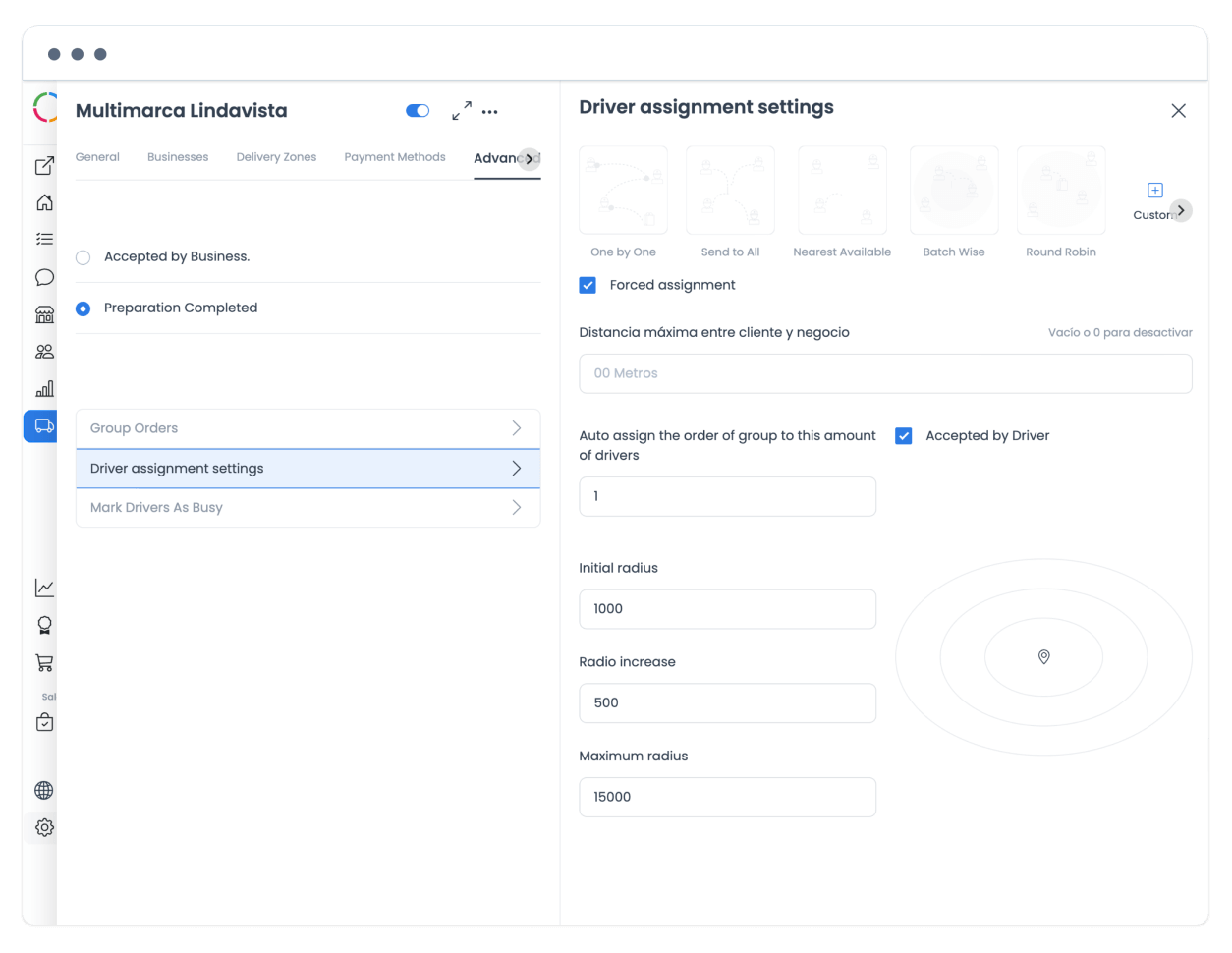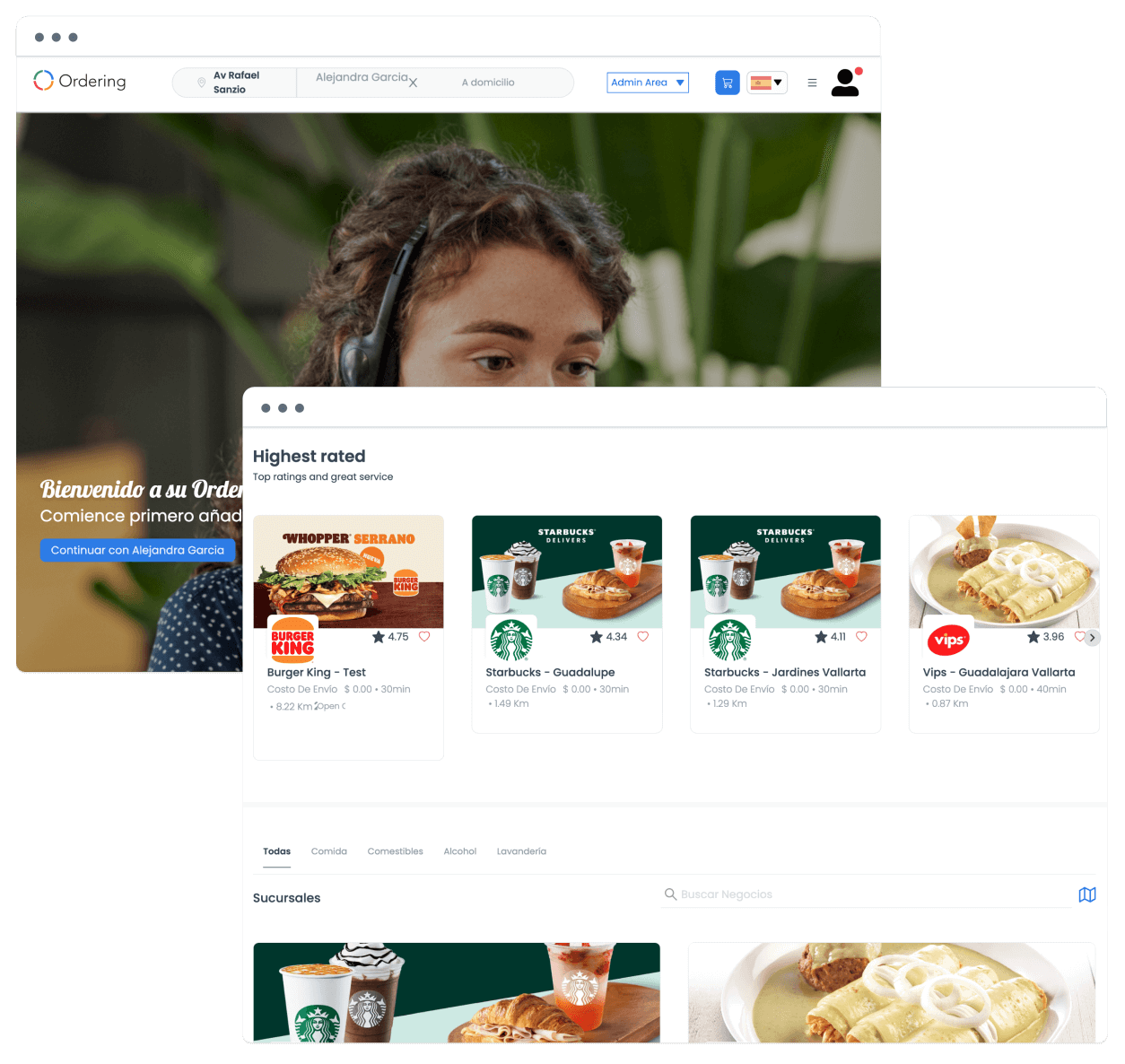 Call Center
The call center utilized by Wow+ from Alsea with the brand Ordering.co is a dedicated facility for managing customer orders and inquiries over the phone.
Staffed by trained customer service representatives, the call center ensures prompt and efficient assistance to customers placing orders or seeking information.
The representatives have the tools and resources to access menus, process orders, and address customer concerns. The call center is vital in providing personalized support, resolving issues, and ensuring a smooth ordering experience for customers who prefer to place their orders through phone calls.
Overall, the call center enhances the customer service aspect of Wow+ and contributes to customer satisfaction.
Delivery Dashboard
The Delivery Dashboard used by Wow+ from Alsea with the brand Ordering.co is a comprehensive tool that enables efficient management and tracking of the delivery process. It provides a centralized platform for overseeing all aspects of the delivery operations.
The dashboard offers real-time insights into order statuses, delivery routes, and driver assignments. It allows monitoring delivery times, driver performance, and order completion rates.
Additionally, the dashboard facilitates communication between the restaurant, drivers, and customers, ensuring seamless coordination throughout the delivery process.
The Delivery Dashboard is crucial in optimizing delivery efficiency, enhancing customer satisfaction, and maintaining a streamlined delivery service for Wow+ customers of Alsea.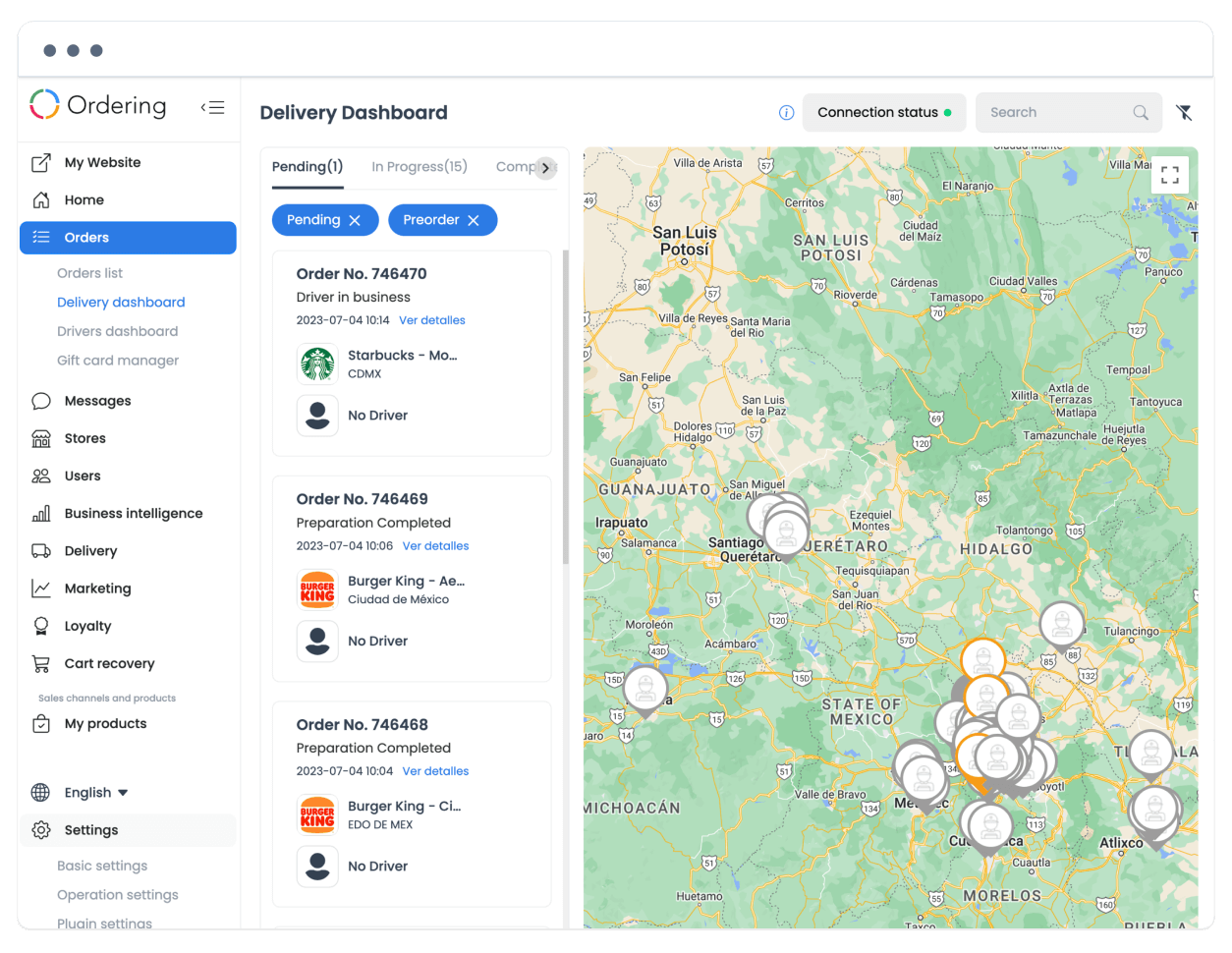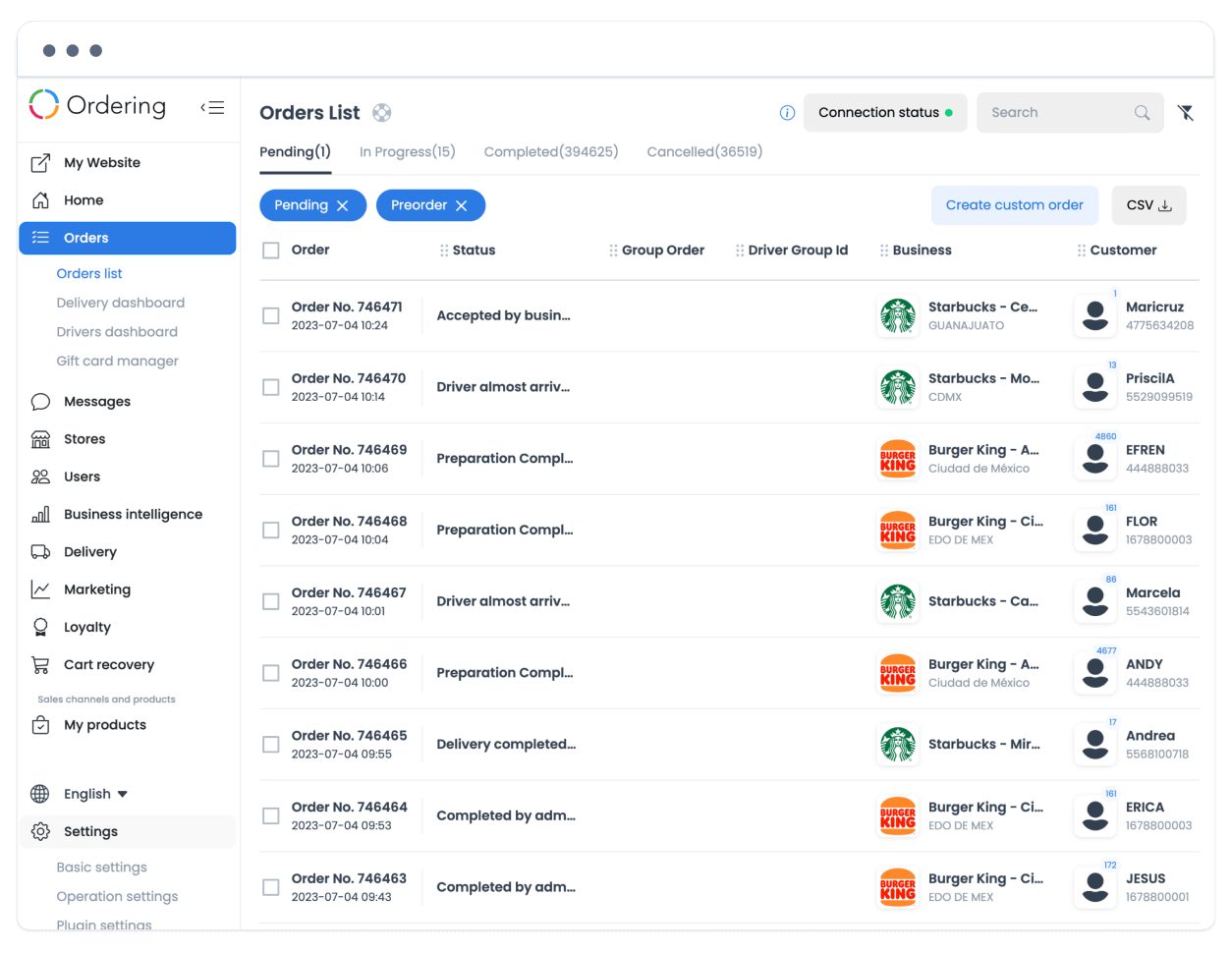 Ordering Dashboard
The Ordering Dashboard used by Wow+ from Alsea with the brand Ordering.co is a powerful tool that provides centralized control and management of the ordering process.
It offers a comprehensive overview of incoming orders, menu items, and customer details. The dashboard allows restaurant staff to process and manage orders efficiently, ensuring accuracy and timely preparation.
It also provides valuable insights and analytics, such as order trends, popular items, and customer preferences, enabling data-driven decision-making.
The Ordering Dashboard enhances operational efficiency, streamlines order management, and facilitates a seamless experience for Wow+ customers of Alsea by providing a centralized hub for monitoring and optimizing the ordering process.
In conclusion,
the collaboration between Alsea and Ordering.co has proven to be highly efficient and fruitful.

Together, they achieved significant milestones in record time and enhanced customer satisfaction across all of Alsea's restaurant chains.

The partnership has enabled Alsea to continue growing and meeting their digital needs, even in the face of unprecedented challenges posed by the pandemic.